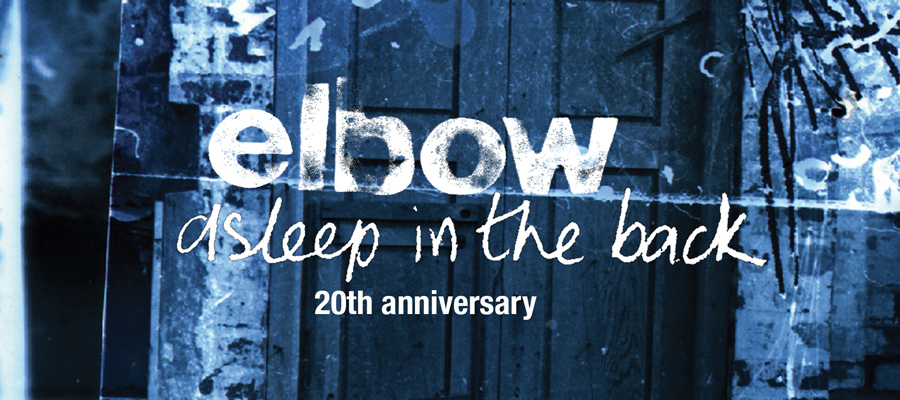 Asleep In The Back 20th Anniversary
To celebrate the twentieth anniversary of their 2001 debut album, 'Asleep In The Back', elbow have announced the release of a collection of rare tracks, available on streaming services from today.
Alongside the original studio album and a number of B-sides, the collection includes tracks taken from their debut 'Noisebox EP' and from their two releases for Manchester independent Uglyman Records, 'The Newborn EP' and 'The Any Day Now EP'. Also included are six live tracks recorded at London's Astoria in October 2001, a live acoustic set recorded for Steve Lamacq's Evening Session on Radio One, and remixes including fellow Mancunian Andy Votel's take on 'Powder Blue'.
Stream the full collection here.
The full track listing for the twentieth anniversary edition of 'Asleep In The Back' is:
Asleep In The Back
1. Any Day Now
2. Red
3. Little Beast
4. Powder Blue
5. Bitten By The Tailfly
6. Asleep In The Back
7. Newborn
8. Don't Mix Your Drinks
9. Presuming Ed (Rest Easy)
10. Coming Second
11. Can't Stop
12. Scattered Black And Whites


Asleep In The Back EPs and B Sides
1. Powder Blue (The Noisebox EP Version)
2. Red (The Noisebox EP Version)
3. Theme From Munroe Kelly (The Noisebox EP Version)
4. Can't Stop (The Noisebox EP Version)
5. Kisses (The Newborn EP Version)
6. None One (The Newborn EP Version)
7. Wurzel (The Any Day Now EP Version)
8. George Lassoes The Moon (The Any Day Now EP Version)
9. Vum Garda
10. About Time
11. Suffer
12. Lucky With Disease
13. One Thing That Was Bothering Me
14. Stumble
15. Puckfair

Asleep In The Back Sessions, Remixes and Acoustic Tracks
1. Newborn – BBC Radio 1 Lamacq Session
2. Don't Mix Your Drinks – BBC Radio 1 Lamacq Session
3. Red – BBC Radio 1 Lamacq Session
4. Powder Blue (Andy Votel Mix)
5. Press Your Lips (Newborn) (El Presidente Remix)
6. Coming Second (Fink Remix)
7. Coming Second (Misery:Lab Remix)
8. Newborn Bitten By The Black Dog
9. About Time (Acoustic Version)
10. The Crow (Acoustic Version)
11. Newborn (Acoustic Version)

Asleep In The Back Live At The Astoria 24th October 2001
1. Bitten By The Tailfly – Live At The Astoria
2. Coming Second – Live At The Astoria
3. Don't Mix Your Drinks – Live At The Astoria
4. Can't Stop – Live At The Astoria
5. Scattered Black And Whites – Live At The Astoria
6. George Lassoes The Moon – Live At The Astoria